Bullied for Wearing a Turban
Bullying in America is a serious public health concern, with one in five schoolchildren experiencing the negative consequences. Kids who are bullied may develop feelings of sadness, loneliness, and isolation. Bullying can also make it more difficult to perform well in school, and it has been noted as a risk factor for suicide. For Sikh-American children, wearing a turban can be seen by other children as a significant difference from how they appear and often becomes the focus of commentary and bullying.
The negative consequences of bullying has the attention of many federal agencies, community organizations and socially minded entrepreneurs who work together and convene to discuss new research, concerning data and creative approaches to prevention. At the International Bullying Prevention Association conference, attendees had the unique opportunity by the American Sikh Council to receive a turban. Their goal was to give attendees a glimpse into what it might be like to walk a day in the shoes of someone who is a practicing Sikh. MaegenMarie Jones, one of the conference attendees, eagerly stepped up to experience the turban and build her understanding of Sikh religion and culture.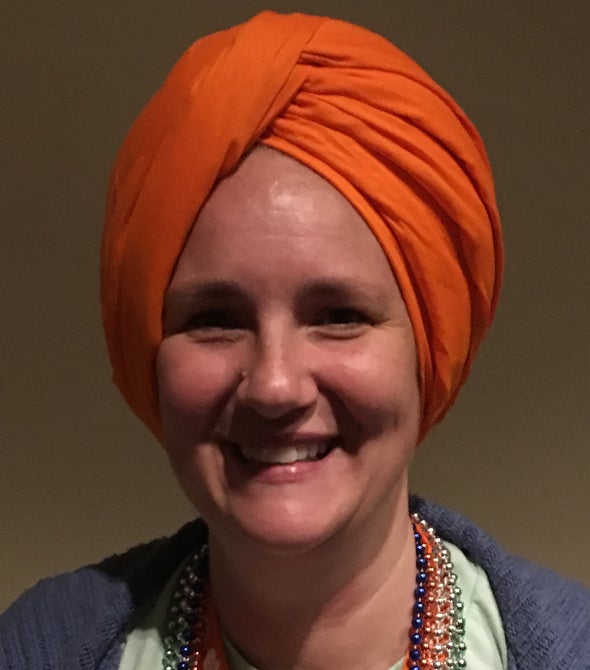 MaegenMarie Jones at the International Bullying Prevention Association Conference
The Sikh-American volunteers prepared a saffron cloth to wrap around her head – a process taking 4-5 minutes. When they were done, MaegenMarie left the conference to return to her hotel room. When she reached the elevator, a man and a woman gave her an odd glance and then got off and told her they would wait for the next. For MaeganMarie, she believed this was a statement regarding her appearance and the turban. It was the first time she ever felt discriminated, judged, and seen as different.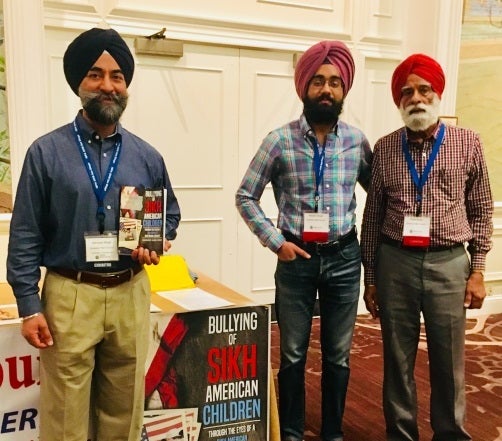 American Sikh Council Volunteers at the International Bullying Prevention Association Conference 2017
The Sikh-American community of 750,000 in the United States is not often thought of as at risk for bullying and discrimination, and they are generally not included in related research or culturally specific programming.
Over half of all Sikh-American children, however, report being bullied in school
– and even more so if the child is wearing a turban. More boys are targeted than girls, and the American Sikh Council notes that some Sikh children are excluded from sport activities. They offer some
steps schools can take
to help like educating teachers and students about Sikh faith, informing parents about how best to report bullying, and providing students support when they tell an adult about an incident.
The turban is part of a religious uniform intended to cover hair, promote equality, and affirm the Sikh identity. Sikh theology teaches that hard work brings a truth from within. Some of the core values include
Kirat karo
– earn an honest living;
Wand chhako
– share your earnings with others while selflessly serving others; and
Naam japp
– focus on pure virtues like truth, honesty, integrity, and morality, while remembering the Creator at all times. These tenants come from a religious foundation and commitment to peace and charity. However, in a country where the Sikh population is quite small, religious and cultural practices have been a target by individuals who focus on the differences as an avenue to shame, hurt, or exclude.
For MaegenMarie, the experience of wearing a Sikh turban for one day gave her deeper insight into the experiences of the Sikh population. Educators, community groups, and organizations working on bullying and violence prevention also need to include Sikh children and recognize them as a high-risk group. Greater efforts to educate kids and to nurture acceptance and inclusion is needed. Getting to know people and their practices is a meaningful way to build understanding, acceptance, and perhaps new friendships as well.
About the Author
Helga Luest currently works for a government contractor and manages a number of federal projects related to behavioral health, trauma, and violence prevention. In 2016 she was appointed to the Maryland Governor's Family Violence Council and she serves on the U.S. Congressional Victims' Rights Caucus Advisory Group. Helga also serves on the board of the
Campaign for Trauma-Informed Policy and Practice
, a national nonprofit advancing the transformation of trauma informed practices throughout the United States. In 2010 she was awarded the Congressional Unsung Hero Award for her effective advocacy work on violence prevention and response. In her free time, Helga facilitates two social media groups called Trauma Informed where advocates, survivors, researchers, and other contribute content and commentary on issues related to trauma, prevention, and resilience –
on
Facebook
&
LinkedIn
.